The EU has imposed an asset freeze and travel ban on three Burundi officials accused of ordering excessive force against peaceful protestors.
The officials – overseeing intelligence and security bodies – are close to President Pierre Nkurunziza.
The EU has also imposed sanctions on a former general who took part in a failed coup in May.
Burundi's foreign minister has defended the use of force, saying the demonstrations were violent.
President Nkurunziza's decision to pursue a third term in office triggered street protests and the coup attempt.
Opponents of the president say the decision was unconstitutional
Following the failed coup in May, the president went to win an election.
Unrest continued in the central African country, with more than 100 people reported to have been killed over the summer.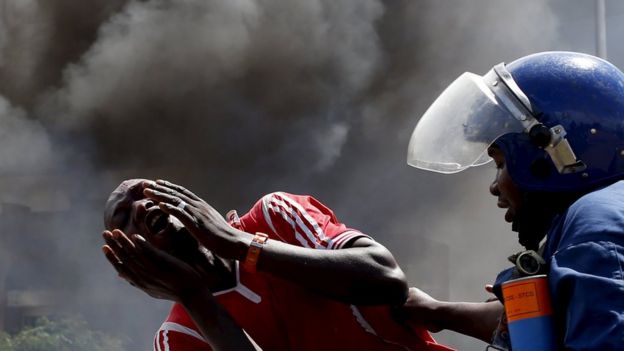 On Friday, the EU announced sanctions against:
Godefroid Bizimana, the deputy head of the national police, accused of decisions that led to the "disproportionate use of force and acts of violent repression" towards peaceful demonstrations
Gervais Ndirakobuca, a cabinet official responsible for police matters, accused of giving instructions that prompted violations of international human rights law
Joseph Niyonzima, a senior intelligence official accused of arming and training a pro-government militia
Leonard Ngendakumana, a former general who took part in the coup, accused of "obstructing the search for a political solution"
Belgium – Burundi's former colonial power – has meanwhile said it will suspend aid for some development projects in the country because of the recent political instability.
SOURCE:BBC