University of Georgia fans fume as Uganda, pop. 40m, 'steals' their hashtag
University of Georgia fans fume as Uganda, pop. 40m, 'steals' their hashtag
It's the Olympics, so it's time for hashflags.
In celebration of Rio 2016, Twitter, as is custom for big sporting events, has come up with 207 emojis for each competing country, and tweeting with the three-letter country code hashtag will trigger flag emojis for every team, including the Refugee Olympic Team (#ROT).
But some fans at the University of Georgia were unimpressed. The three-letter UGA hashtag on Twitter gives the flag of the Uganda, the large east African country. Not the University of Georgia, the public university in the town of Athens. (The University of Georgia goes by UGA for short, obviously).
They've stolen our hashtag! Obviously some supporters were in on the joke, and tweeted tongue in cheek. But some seemed annoyed. And some didn't really seem to notice.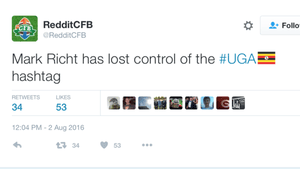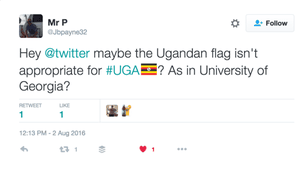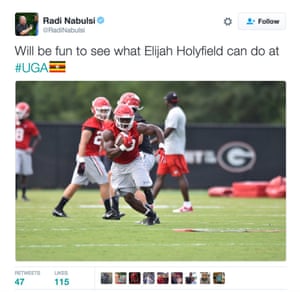 Oh well. The Bulldogs still have the #dawgs hashtag, so it's not the end of the world. Just don't use the #GEO hashtag for Georgia – that'll open up a whole new can of worms.
Source: www.theguardian.com
About Post Author