Burkina Faso 'coup': Shooting after officers dissolve government
Presidential guard officers in Burkina Faso have announced the dissolution of the transitional government.
A new "national democratic council" had taken control to end the "deviant regime", Lt-Col Mamadou Bamba said on state television.
Interim parliament speaker Cheriff Sy said the move was "clearly a coup".
Heavy shooting could be heard at the main square in the capital, Oaugadougou to disperse protesters, reports the BBC's Yacouba Ouedraogo from the city.
On Wednesday, the presidential guard arrested interim President Michel Kafando and Prime Minister Isaac Zida at a cabinet meeting at the presidential palace.
They were due to hand power to a new government after elections on 11 October.
Long-serving ruler Blaise Compaore was ousted in a popular uprising last year.
'Rise up'
Some of his key allies had been barred from contesting the election.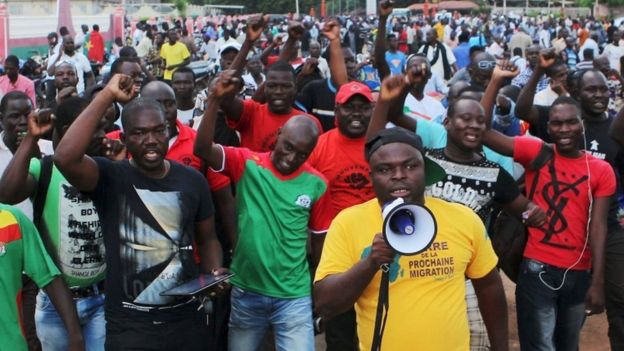 In his announcement, Lt-Col Bamba said wide-ranging talks were being held to form a new interim government that would organise "peaceful and inclusive elections".
Source: BBC
Mr Sy told French radio station RFT that that people should "immediately rise up" in response to the coup.
A witness told Reuters news agency that more than 100 people had gathered at Revolution Square to demand the release of the interim government leaders.
Hundreds of people also protested on Wednesday to demand their release.
About Post Author